Affiliate Compensation Plan
Our compensation plan is designed to keep you moving to higher levels to earn faster and increase the amount of ad credits and income automatically. We use a simple 2x1 Team Forced straight-line compensation plan that will maximize your results!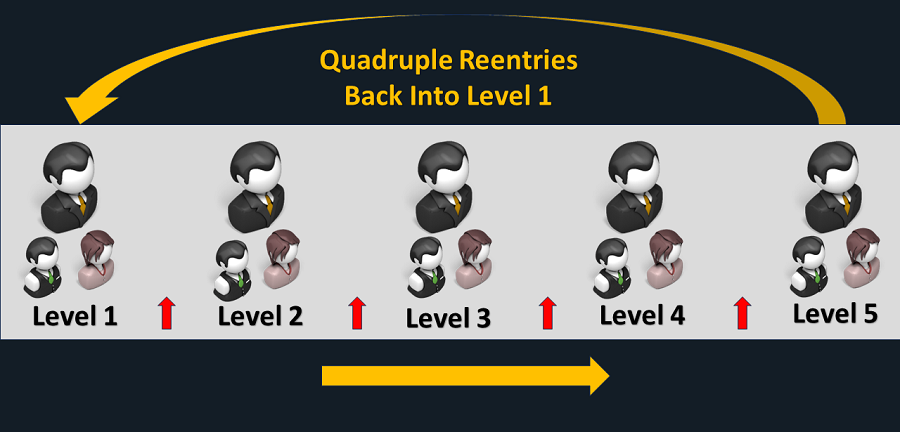 Looking at the picture above you see exactly how it works. You will pay a one time $5 to purchase your level 1 ad package. Once two people land under you from sales either by you or your upline, you will then be pushed to level 2. Once two land on your level 2, you will be pushed to level 3. Once level 3 has two under you, you will be pushed to level 4 and once level 4 has two you will be pushed to level 5.
Now here is where it gets interesting for you. Once you cycle out of level 5, you get 4 reentries back into level 1. Then the two you referred will follow you and also get 4 reentries which would push your 4 new positions to level 2. What this means for you is once your 4 cycle level 5 the second time, you will then have 16 reentries into level 1. Your 2 you referred will also get 16 reentries when they cycle and all 16 of your new positions will be pushed to level 2. When those 16 cycle level 5 for your third time, now you will have 64 reentries back into level 1 and then your two you referred will follow you.
This sequence of income will keep repeating itself for the life of your membership here at Powerline Push.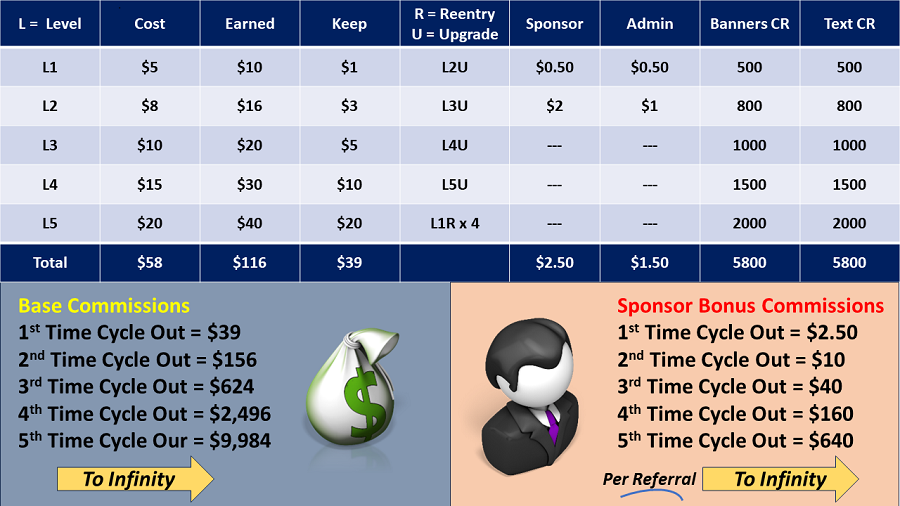 As you can see with the base commissions you could earn thousands easily with our compensation plan but it doesn't stop there. Our sponsor's bonuses also quadruple with EACH REFERRAL. One referral that cycles out 5 times, you would earn $640. If you had just 10 referrals that cycle out 5 times that is $6,400 just in bonuses. If you are an aggressive with your sales, you get 100 that is $64,000. you get 1000, that is $640,000. There is no limit to how much you can earn. It's up to you to try to reach your goals when it comes to referring.


FYI - Referring family members will not benefit your growth!